Our brilliant Bottlebusters headed to Limerick to take part in the regional final of the One Big Idea competition organised by the Sustainable Energy Association of Ireland.  Their film about banning plastic bottles from the school was shown on a cinema screen. Then they delivered their Power Point presentation to all the other pupils, teachers and judges.  While they didn't win any prizes on the day, they were wonderful representatives of the school and their message of cutting out the use of plastic has been spread far and wide! Well done to them all and a big thanks to Ms. Galvin and Mrs. Shaughnessy for all their guidance and support.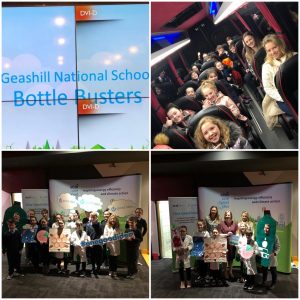 Watch their film below.
See their Powerpoint presentation here.