Active School Update: March
We have been very busy the past few months with football, tag rugby and swimming lessons in full swing.
This month we have started hurling sessions with Conor Langton.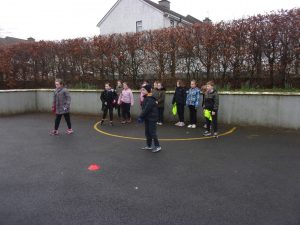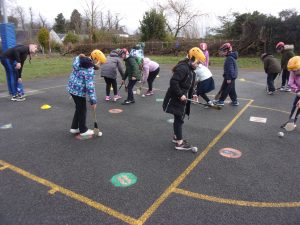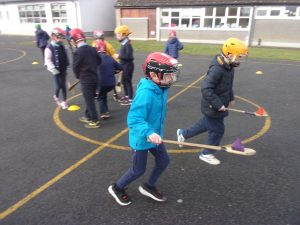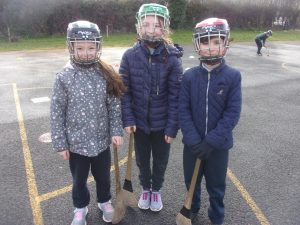 Our
"Run Around Ireland Challenge"
is taking place for the month of March. Each class has chosen a destination in Ireland and recorded its distance from Geashill. Every day we will run 1km a day in an attempt to virtually run to our destination by the end of the month. If 18 children in a class run 1km each per day, we will count that 18km as the total distance for the class on the day.
**All children are asked to wear appropriate running footwear and tracksuits for the month.**
Run, skip, jump, play- let's be active every day!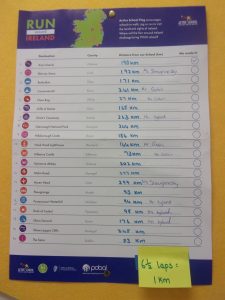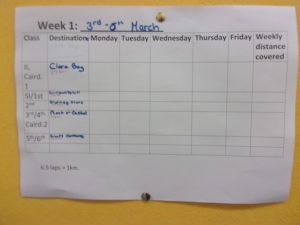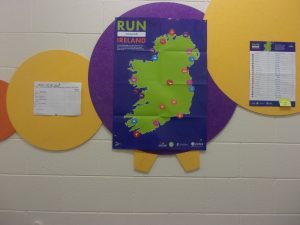 Playground Leaders from 5th and 6th class have been working hard to organise structured, fun games at lunchtime for pupils from Junior Infants up to 4th class. All children are enjoying the games and we could not be more proud of our thirteen playground leaders as they continue to model excellent team leadership qualities to the younger children.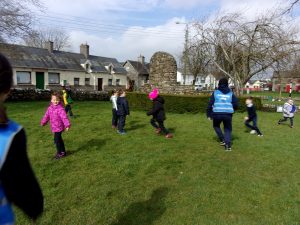 Physical Education
Fundamental Movement Skills
FMS are the basic building blocks of movement and are an essential part of everyday life and recreational activity. It is only when these skills are mastered that a child can go on to develop specialised movement skills,
which will allow them to reach their potential in sports-specific endeavours.
This year we are working on the following skills:
Jumping for height
Running
Balancing
Throwing
More information on FMS can be found here: https://www.pdst.ie/physlitJ
Jumping for height: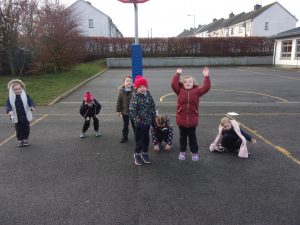 :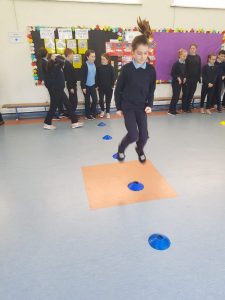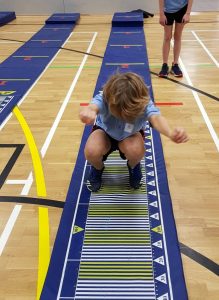 Aquatics:
While the senior classes have been busy with swimming lessons, Mr Galvin's class have been learning about Primary Aquatics Water Safety (PAWS).
PAWS teaches children how to be safe around water in homes, farms, pools, beaches and on our waterways. Further information on PAWS can be found here: http://www.iws.ie/education/paws.2925.html
PE Equipment:
Our annual PE equipment audit took place on the 19th of February. All P.E equipment and resources are clearly labelled and organised.
PE lessons:
Early in the school year; Class Teachers took the time to ensure they were implementing the following conditions for Physical Education:
All pupils provided with at least 60 minutes timetabled PE per week.
All classes taught at least 5 different PE strands each year: Athletics, Aquatics, Dance, Gymnastics, Games and Outdoor and Adventure.
Our school PE programme allocates a balanced amount of time to each of the PE strand units.
All teachers use the PSSI lesson plans to guide their delivery of the Primary PE curriculum.
Our school ensures that all PE lessons are planned so that they are accessible by all pupils.
Every child's progress in PE is discussed with parents at PT meetings and feedback is included in the annual school report.
Let's get moving!:
We have been very active here in school since we came back after Christmas.  Tag rugby has begun again for the senior classes, swimming begins on Friday, Offaly Sports Partnership is running a six week P.E programme for the Cairdeas children and all classes have been very active at lunchtimes and during P.E. classes.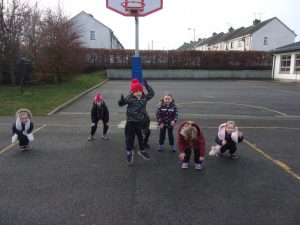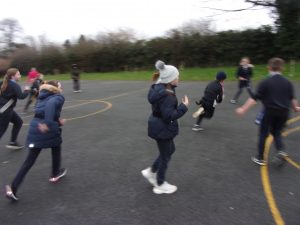 To keep up the activity why not take part in the Operation Transformation walk on Saturday 18th January in Tullamore.  See full details below.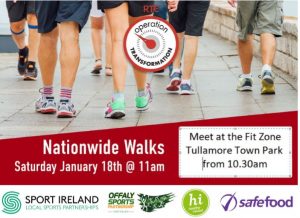 Physical Activity
Playground Leadership Training
In February pupils from 5th and 6th class trained to become Playground Leaders. Jean Brady from Offaly Sport Partnership provided workshops teaching the pupils to lead younger pupils in structured, fun games at lunchtime. The Playground Leaders were taught skills to promote effective communication, inclusion, organising fair groups/teams and team building skills. Take a look at the video below.
Active calendar events:
Before the Christmas holidays, the whole school came together to perform "Fight Song", a dance we learned for active homework.
https://vimeo.com/user107543132/review/385110345/2316ea7fb2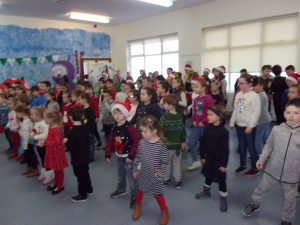 Hallowe'en Walking Parade
We braved the rain and ventured out for our spooky Hallowe'en Walking Parade.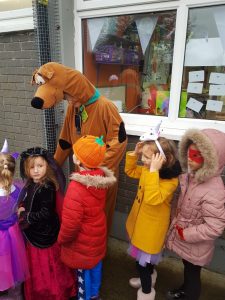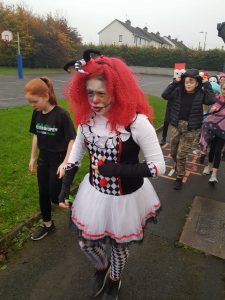 Take a look at some of the activities we have been getting up to since September
Partnerships
Offaly Sports Partnership:
Cairdeas children taking part in activities run by Offaly Sports Partnership: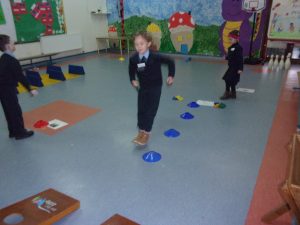 Active School Flag slogan:
We worked together to find and agree on an Active School slogan. We received fantastic slogan entries from every class. Our Caretaker, Eddie, found it difficult to choose just one slogan. In the end, he picked a slogan created by Ciara in 5th class, which was: "Run, walk, jump, play. Let's be active in every way!" As a reward, our winner was credited with an extra P.E lesson for her whole class.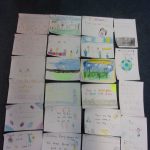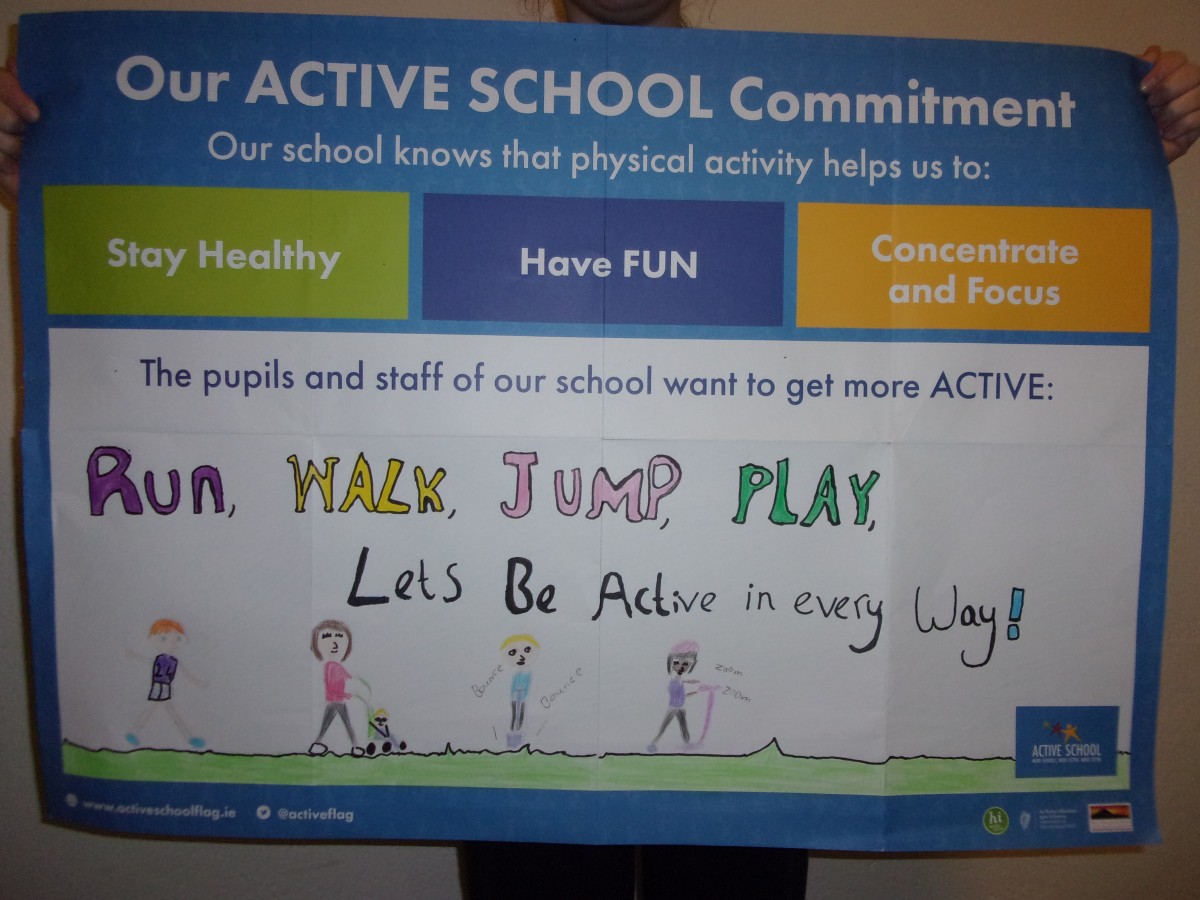 Active School Committee
Introducing our new Active School Committee for term 1. Each child here will be representing their class on our mission to keep active. Welcome to the team, boys and girls!   
What Does The Active School Committee Do?
The committee has a number of roles including:
Attending Active School Meetings
Coming up with ideas for different activities that classes can do throughout the year.
Making announcements in each classroom
Checking the PE equipment and keeping it tidy.
Taking on the role of playground leaders
Planning, organising and running "Active School Week."
What club are you in?
Senior members of our Active School Committee, along with their friends, conducted a "What club are you in?" survey. They learned that there are many different clubs in local areas. They created posters to inform the rest of the school about the various clubs and organisations operating in the local community.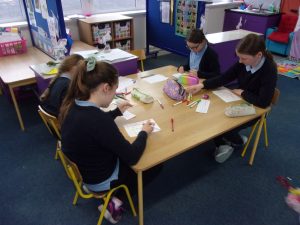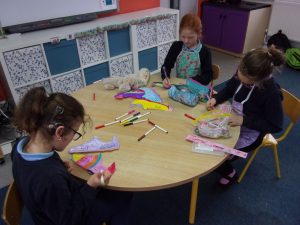 Physical Activity Acknowledgements
Our school praises and encourages physical activity efforts and success both during school and outside of school hours. The children display photos of their achievements in the "Proud Cloud" section of our Active School noticeboard.
Parent and Student Questionnaires
Our senior Active School Committee distributed parent and student questionnaires. The committee spent some time discussing and recording the responses from these questionnaires. The information gained from these questionnaires will inform our Active School initiative going forward.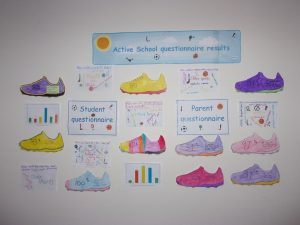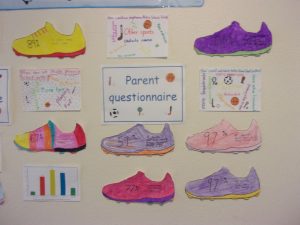 Active School Week
Our annual Active School Week will run from 5th – 8th May 2020. (Weather permitting.)
Any parents/family members who wish to participate or make suggestions for this exciting event are invited to contact Ms Leonard here in the school. More information will follow in the coming months.
---
The staff and students of Geashill N.S were delighted to be awarded the Active School Flag in June 2017. As a newly accredited active school we will continuously strive to achieve "a physically educated and physically active school community."
What is an active school flag?
The Department of Education and Skills wishes to recognise schools that strive to achieve a physical educated and physically active school community by awarding them the Active School Flag (ASF). The Active School Flag will be awarded to schools that:
Adhere to DES guidelines regarding PE timetable provision for all students
Teach a broad and balanced PE curriculum
Inform and invite the whole school community to participate in the ASF process
Self-evaluate current provision in terms of PE, Physical Activity and Partnerships
Plan, implement and monitor improvements for each of the aforementioned areas
Organise an 'Active School Week' as part of the annual school calendar.
The Active School Flag is funded by the Teacher Education Section of the Department of Education and Skills and based in Mayo Education Centre. Once awarded the ASF remains valid for a period of 3 years.
To learn more please visit the Active School Flag website 
---
Some of the activities we took part in last year:
Yoga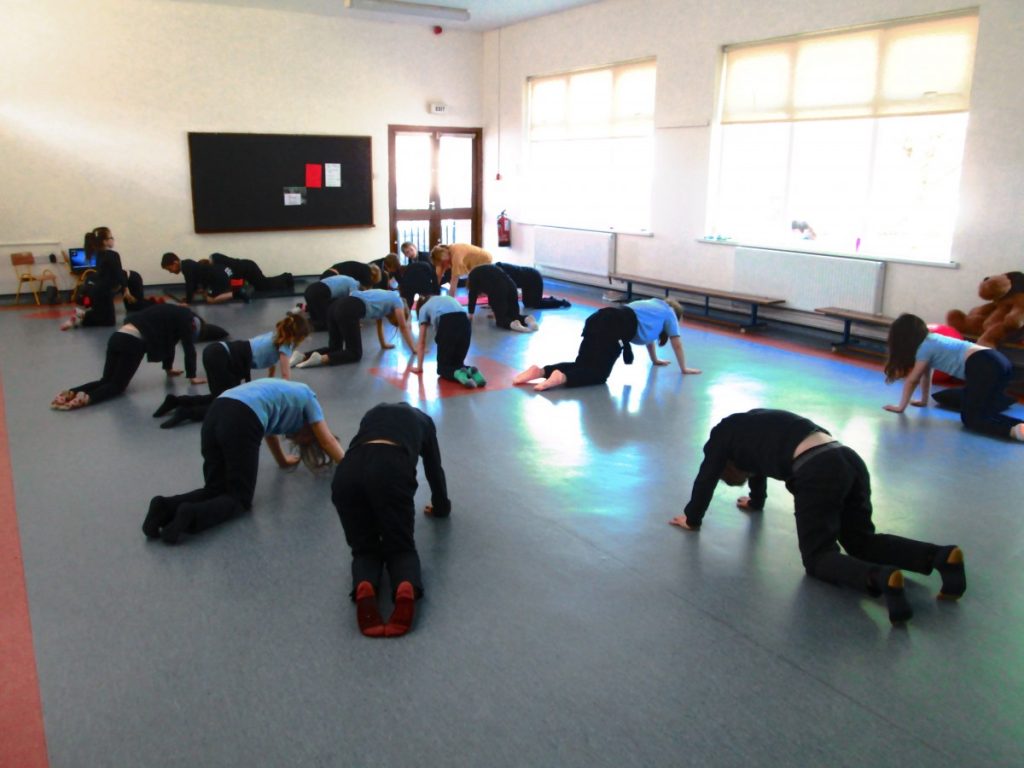 Active Art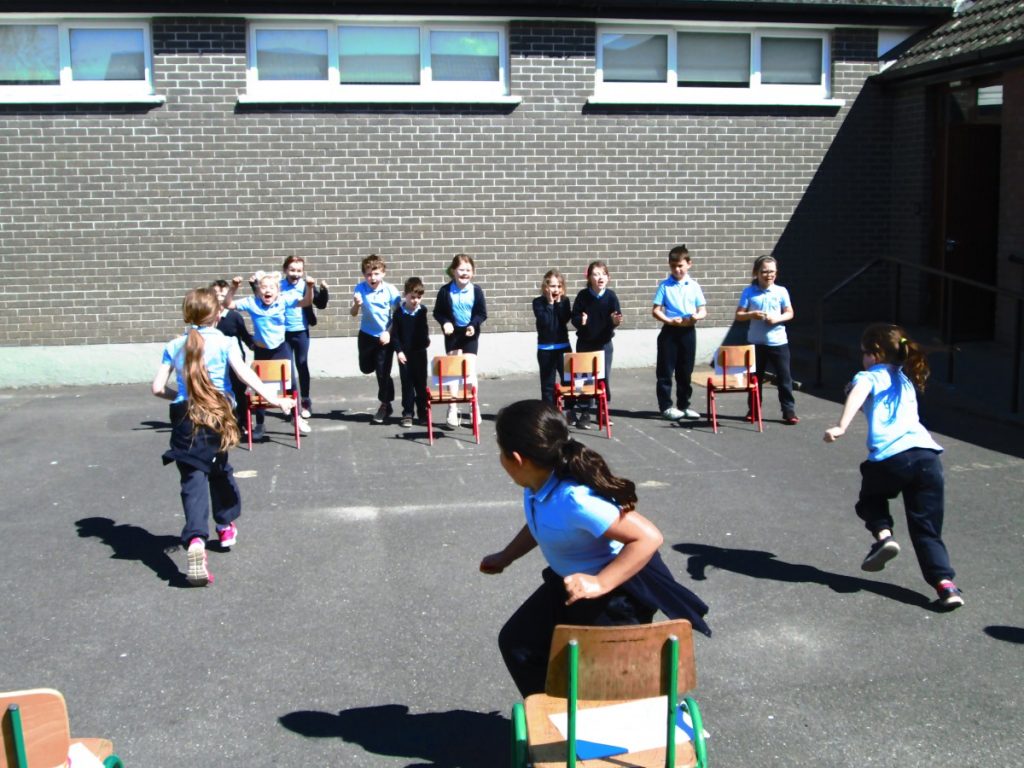 10 @ 10
The Geashill to Malin Head Running Challenge
Walk On Wednesday
Hockey 
Penalty Shootouts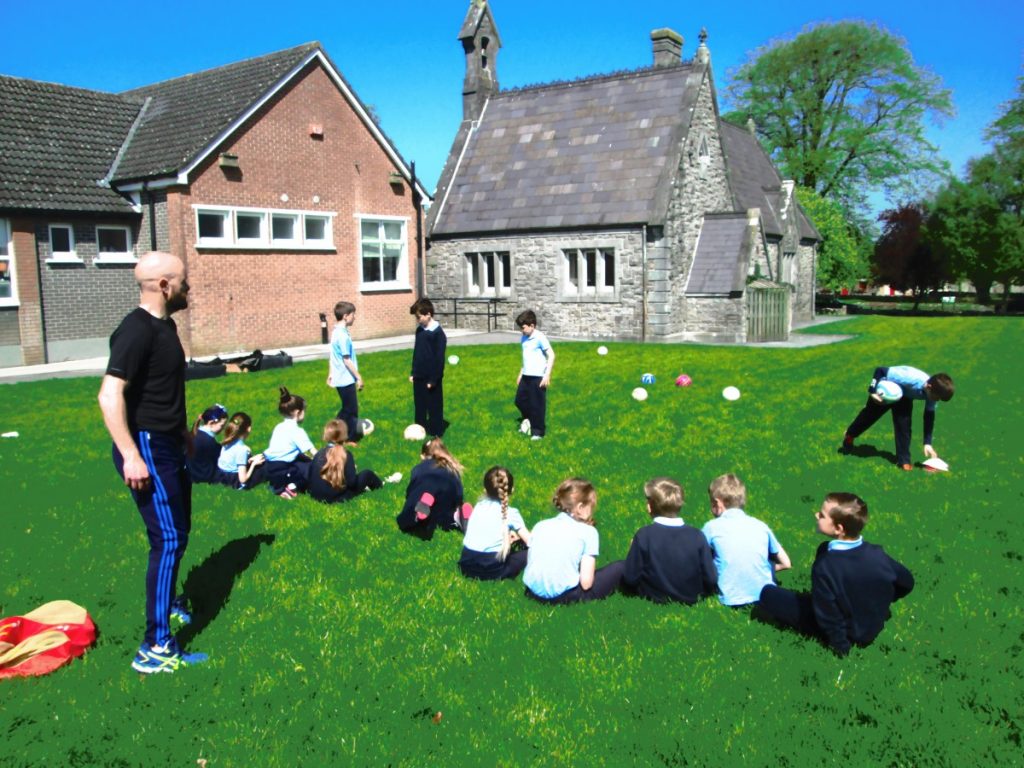 "Climb the Heights" Skipping Challenge